Electronic Health Records
TechPro Medical Systems has partnered with SpringCharts® to provide practitioners with an ONC-ATCB certified, interactive EHR solution.
SpringCharts® EHR delivers on the promise to increase productivity and improve patient care. It combines the right mix of rich functionality, intuitive ease of use, and affordability needed to enable rapid and complete documentation with a minimum of cost and disruption.
Rich in Function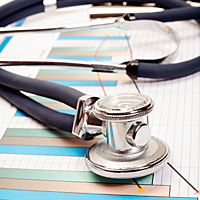 SpringCharts® is designed from the ground up to deliver the features and functionalities necessary to improve productivity and quality of care. In addition to comprehensive electronic medical records functionality, it includes ePrescribing, appointments, patient tracking, Email, interoffice messaging, reporting, coding tools, chart evaluation, template management, certified billing links and more in one integrated system.
Intuitive and Easy to Use
The architecture of SpringCharts® is logically arranged to match the workflows and functions of the medical office. Data is located where a provider or staff member would intuitively look for it and virtually all data needed to manage a patient visit from arrival to check out is accessible from just three screens. Typing is virtually eliminated as Tap-n-Go ® navigation, interactive voice recognition and customizable Templates and PopUp Text dramatically reduce the time needed to fully document a patient encounter.
Supports both Leading-Edge and Standard Technologies
SpringCharts® supports the newest and most promising technologies including voice and handwriting recognition, Tablet PC, iPhone, iPad, wireless networking and remote access. SpringCharts® runs on inexpensive, commonly available hardware (Windows and Mac) and networks (TCP/IP).

Visit Spring Medical SpringCharts