The Solution to All Your Billing and Collection Headaches
The TechPro Medical Billing Service operates as a virtual extension of your practice — allowing you to off-load the complex and time consuming billing and collection activity while still retaining full communication and supervision.
Get paid better, faster, experience a stronger, more stable cash flow.
Reduce or eliminate denials.
Transparency: we provide timely reports, so you know status at all times.
We are paid only on what we collect, so you can't lose You are reimbursed directly by third party payers; we bill you.
Redeploy staff to focus on better care and customer service.
Choose The Solution That's Best For Your Practice
Software installed on your hardware or on our secured site, allowing your staff access to patient demographics and scheduling while TechPro Medical Billing Service handles all claims processing and payment reconciliation.
— OR —
Select our Totally Outsourced Billing Program
Why TechPro Medical Billing Service?
Over 25 years of experience serving New England.
Multiple healthcare sector expertise.
Our focus is to increase your cash flow and profits.
Our clients are thrilled with the quality of our work.
Compliance-driven policies, procedures and practices.
Ask yourself…
Can you personally keep current with the ever-changing billing and coding rules?
Do you have experienced office coding personnel?
Does your staff have the time and skills to deal with the insurance companies?
Are you being paid fully and fairly for everything you do?
Call us today for a no-obligation consultation.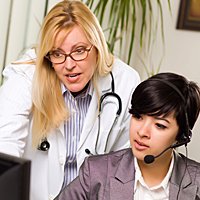 "TechPro is a professional and efficient company. Their team approach has my practice running more profitably than it has in the past 28 years. Thank you, TechPro!" — Podiatrist, Lakeville, MA
"Thanks to TechPro's expertise we are now getting paid for Medicare charges that were being routinely denied." — Internist, Fall River, MA